Church is so much more than Sunday mornings! Consider getting connected by joining one of these small groups that meet for Bible study, prayer & fellowship at different times throughout the week.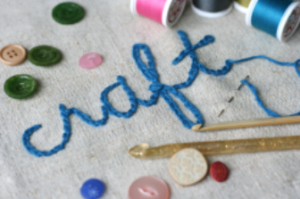 Crafters 2020 Version
Crafters will meet in the All Purpose Room on Wednesdays at 10AM. Park on 6th Ave. and enter via the Welcome Center door only (elevator is available). Things to remember: wear a mask; bring your own water, coffee, tea; bring your own craft from home in your own bag. Join us for conversation, mailing of monthly post cards & prayer. Email me with thoughts or concerns. Pass along to those without email if you are meeting with them.
Love, Sue Perry
very Day!
Get your Morning Grace devtional delivered right to your email box every morning!
Tuesdays – Council Meeting
Second Tuesdays at 7:00pm via Zoom
Wednesdays – AA Recovery By the Book
7:00-8:00pm in the Parlor
Deacon Allison will be offering a Zoom Bible Study. Join in on Thursday mornings at 10:00 am. We'll be engaging in the Book of Ecclesiastes. Call the church office for the link, if you would like to take part. If you don't have access to a computer with a webcam, you can still join by phone.
Zoom Pub Theology—Pub Theology—Come talk about matters of faith (with or without your favorite beverage!) in a relaxed & "real" way. This group meets via zoom with Deacon Allison on the 4th (or 5th) Thursday of every month at 7:30pm. Call church office for zoom link.
2

Facebook Live Opportunities On Fridays, at 10:00AM, join Deacon Allison to spend some time with one of the devotional readings from the week. See our Facebook page for more details.
Join either Pastor Krais or Deacon Allison on the Grace Facebook page for live prayer on Sunday mornings at 11 am. Bring your prayer requests or simply pray with us.
Coffee Hour with Deacon Allison on Sundays at noon. Missing seeing your Grace friends? You don't have to! Join this zoom meeting just to chat and check in with one another. You'll be glad you did! Call church office for zoom link.
ealing Service is returning! News will be forthcoming on a healing service in mid-November. Modifications will be made for social distancing & safety concerns. Contact Deacon Allison if you have any questions or are interested in taking part.
New Member Gatherings —
The New Member Gathering meetings will be rescheduled as soon as we are able to. Please contact the church office at gracelutrn@verizon.net or
610-948-3684, if you have any questions, or if you're interested in taking part in our New Member gathering. Let us also know if you are interested in meeting via Zoom or another online platform