Monthly Prayer Vigil
A prayer vigil is held the first Saturday of every month from 10:00am-4:00pm in Grace's sanctuary. The front door will be open.
Stephen Ministers
Stephen Ministers are available to pray with or for you every Sunday during communion. Just go to a prayer station in the narthex or at the side doors, and a Stephen Minister will pray with you. Stephen Ministers provide confidential, one-to-one Christian care and are specially trained to meet your emotional & spiritual needs. If you or someone you know is hurting, talk with our Stephen Leader, Judy Lukens.
Grace has prayer boxes both in the narthex and outside the front doors! Please complete the prayer request slip, place it in the box, and our Caring Crafters and Stephen Ministers will pray for you. These can be anonymous or you can include your name – everything with and through our prayer ministries remains confidential. Always know we are here for you!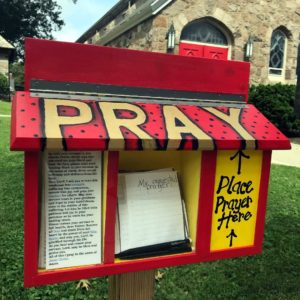 Dear Community,
Let us pray for you!
Caring Crafters
The Caring Crafters love to pray for our congregation, our loved ones, our community. Come join us!
Caring Crafters meet Wednesdays,
9:30-11:30AM in the All Purpose Room. Join us weekly as we continue with prayer shawls or scarves, monthly cards, small gift projects for shut-ins and weekly prayer for individuals & our congregation. We often continue our social interaction by traveling to lunch. Everyone is welcome to join us. No experience needed. Call Sue Perry for info.
Prayer Chain
Prayer lists name our concerns & thanksgivings, and are a way to stay connected to God and to the needs of others.
New, Short Term and Immediate Prayer Needs are located in the Ledger of your bulletin each week.
Monthly Prayer Lists are available on the back windowsill in the Narthex & in the Pew Racks. Please take a list home with you to enhance your daily devotions & prayer life; also use it to help you prepare your heart for worship with prayer. Contact Jan Slack with your prayer concerns for the Prayer List.
A Monthly Prayer Focus list is available as part of our monthly Newsletter. Please see the "Newsletter" link on our homepage or click here to go to our Newsletter now